Community Easter Egg Hunt (Main Campus, Plainfield)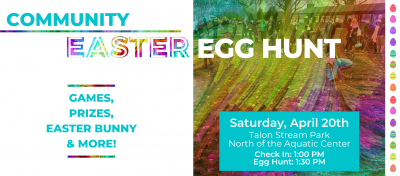 Easter is almost here and it's time for our annual Community Easter Egg Hunt!
You and your family are invited to join us at Talon Stream Park (North of the Aquatic Center) in Plainfield for a fun-filled Easter Egg Hunt party on Saturday, April 20th.
There will be giveaways, games, an appearance by the Easter Bunny and tons of eggs to be hunted. Grab your basket and we'll see you soon!
Check-In: 1:00 pm
Egg Hunt: 1:30 pm