EASTER (South Campus, Greenwood) 10:30 am
April 21, 2019 @ 10:30 AM

-

11:45 AM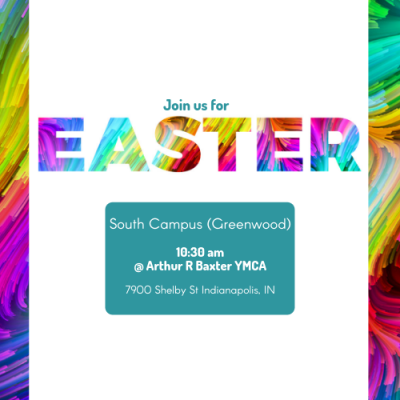 If you're new to Vertical Church I think you'll love what we have planned for Easter. You don't have to worry about dressing up, and if you have kids, they are going to have a blast as well.
Check out our FAQ below and feel free to message us with any other questions!
FAQ
Q: What Do I Wear?
A: We want you to feel comfortable. After all, we are thrilled that you're joining us and want you to be more focused on the service than what you're wearing. In the spring and summertime, it's not uncommon to see people wearing sandals, shorts, and a shirt. Others prefer to still put on their "Sunday best," and that's fine too! We think you'll fit in no matter how you dress.
Q: How Long Does Service Last?
A: Our service begins at 10:30 am, and lasts approximately 75 minutes.
Q: What Happens During Your Sunday Service?
A: Our service begins with upbeat, exciting worship music and is followed by a relevant, Biblically based message.
Q: Where Do My Kids Go?
A: We offer creative, exciting programs for children from birth to 10 years old. VKids check-in begins 15 minutes prior to the service start time. Kids get to experience their very own service with worship and a message in a safe, friendly and enjoyable atmosphere.
Q: Is There Food and Drink?
A: We offer complimentary coffee and light snacks for everyone.